Chef Daniel Catering Menu
Meal / Ala-Cart
Appetizers

Salad

Side

Main Entrees

2nd Entree

Ala Cart Serverw

Premium Cut Meats

Pastry Chef

Specialty Meals
Chef Daniel is pleased to offer you, your family, and friends a varied and exquisite offer of dishes, salads and desserts. Make your party an unforgettable experience that your guests will never forget.
Basil &Tomato Bruschetta
BQ Meatballs
Cucumber Bites /Dill Cream Cheese
Plantain chip & Salsa Dip
Chipotle Cream Cheese on Bagel Chips
Vegetable Sushi Roll
Asiago Cheese Puff
Chicken Salad on Biscuits
Mini Chicken skewers
Filo Jerk Chicken Cups
Filo Chicken Enchilada Cups
Small Ham & Cheese Sandwiches
Avocado toss chicken on wonton cracker
Shrimp/ avocado Bites
Mini Taco
Spanish Olive Crostini
Garden Salad
Toss Caesar Salad
Cucumber & Olives Salad
Tri-Color Pasta Salad
Garden Pasta Salad
Season Grilled Fish

Herbs Crested White Fish

Cajun Grilled Fish

Roasted pepper & Red Onion Fish

Rosemary & Roasted Garlic White Fish

Baked Tilapia /Pepper & Corn Relish
Roasted Potatoes
Chef Blend Veggies
Butter Corn
Chef Quinoa & Spinch Blend
Black Beans /Baby Corn
Rice & Peas
Herbs Butter Noodles
Spanish Yellow Rice
Penne Pasta/Tomato Basil Sauce
Green Beans
Djon Djon Rice
Red Beans and Rice
Tostones
Sweet Plantains
White  Rice /Cilantro
Islands Johnny cake
Roasted Carrots
Pesto Pasta
Entrees:
Choice of Two 50/50
Blacken Chicken
Lemon Pepper Chicken                            
Roasted Chicken
Fried/Grilled Chicken Skewers
Grilled Thai Chicken Skewers
Baked Picante Chicken
Grilled tequila Line Chicken
Balsamic Glazed Chicken
Islands Style Jerk Chicken
Curry Chicken
Honey Sriracha Chicken
Arroz Con Pollo
Pasta:
Spaghetti & Meat Balls
Italian Sausage & Pasta
Italian Baked Chicken & Pastina
Chicken Florentine Pasta
Chicken Alfredo
Chicken Lo Mein
Chinese Orange Chicken
Chicken Fried Rice
Prime Rib
Beef Tenderloin
Ox Tail
NY Strip Hand Cut Steaks
Beef Wellington
Salmon Wellington
Jumbo Shrimps
Fresh Hand-cut Salmon
Premium Cut Meats add $10.00pp
Roast Beef
Red Snapper
King Fish
Sirloin Steak
Large Shrimps
Signature Cut Meats add $7.00pp
Wedding Cake 2-3 tiers

Birthday Cakes 2 Tiers

Sheet Cakes    ¼, 1/2, full size

Dessert Table

Cake Pop's

Mini Cup Cake

Mini cheeses Cake

Mousse Cups

Donuts and Bars

Chocolate Fountain

Cookies and other desserts
Catering Menu Reservation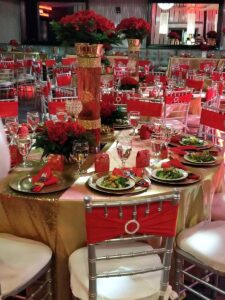 You can make your preservation now, just for the price showed, this will guarantee our services.
To complete this order please call us to +1 (954) 667-9026, and/or send and email to [email protected]
You will pay the total amount when we complete all details about your order. This payment will be in person.
Thank you,
Chef Daniel